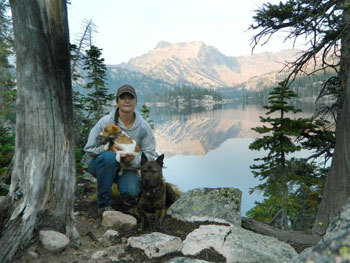 Growing up on a Montana cattle ranch, Jessie Royer had a love for animals from an early age. She rode horses for as long as she can remember with her pet border collie close behind. From about the time she was 10 yrs old she would hook up her border collie "Bear" with a horse halter as a harness and he would pull firewood to the house and hay to the goats. Jessie's first team was her dog Bear and her billy goat named Billybob. At the age of 15 she saw her first "real" sled dogs at a race close by. Some of the mushers took her on rides and she was hooked from then on. Jessie got her first sled dog named Nelson a couple weeks later and ended up going to those same races a year later with her own 11 dog team at the age of 16. She started racing and at 17 she became the first female and youngest person to ever win Montana's Race to the Sky 500 mile race. Running in races like Minnesota's John Beargrease 500 mile marathon, Wyoming Stage Stop, and Canada's Northern Lights Challenge, it wasn't long before moving to Alaska to train and race was next on the horizon. Living in Alaska for 14 yrs, she has competed in almost every big race including the Iditarod. In 2001 Jessie finished her first Iditarod in 14th place earning her the 'Rookie of the Year Award'. For the next 10 yrs she would finish this 1000 mile race in the top 20 and even top 10 three times. For the years 2008, 09, 10, and 2011 she was the highest placing female. In 2009 Jessie's lead dog "Kuling" received the Golden Harness Award for being the outstanding lead dog. Kuling went on to finish 9 Iditarods on Jessie's team and even completed her last one at the age of 12 on a 10th place team before retiring to the coach.
Currently Jessie is living back in Montana working with Triple Creek Guest Ranch in Darby, MT giving rides to guests and teaching them how to drive their own team. She will also be training a team to run in the 2013 Iditarod as well. With a kennel of 60 dogs to train and care for, this is certainly a lifestyle not just a job. It is a labor of love! Jessie still enjoys her horses as well and loves to work cows and go on pack trips in the mountains with them. She also enjoys hunting and competing in mounted shooting events with her horses. Basically, if it has anything to do with dogs, horses, or guns you will probably find Jessie trying her hand at it. With a big love for the great outdoors, there just is simply no better way to travel and see the countryside than on the back of a dogsled or a horse!
Watch Jessie's Iditarod 2009 Video!