For the experience of a lifetime, take a tour by dog sled and see the beautiful Big Sky Country with Spirit of the North Sled Dog Adventures.
Imagine yourself gliding through a winter wonderland of majestic mountains with a team of beautiful huskies pulling you down the trail. The only sounds you hear are the panting of the dogs and the swish of the sled runners. Imagine the thrill of driving a team as you become one unit with these well-trained spirited athletes. No other method of travel over snow can compare with dog sledding.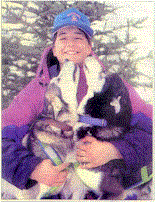 This trip to the past is one you will never forget. The energy, excitement, and enthusiasm of these amazing animals is a wonder to behold. These huskies love to run, and their high spirits and big, lovable personalities will quickly win your heart.
Your experienced guides will give you hands-on instructions and tips that will allow you to experience, first hand, the thrill of driving a sled dog team. Every effort is made to insure your comfort and safety to make this day a most memorable occasion. Opportunities are given for pictures and for everyone to "mush", along with a snack time on the trail.
Guests depart the the entrance to Moonlight Basin Ranch, located about 1 mile from the Big Sky Mountain Village. Along the trail, you'll be seeing some of the beautiful country that makes Montana so special. Such as Lone Mountain and the Spanish Peaks.
No amount of telling ever substitutes for experience! We have received comments like: "we've white water rafted and trekked Nepal but this was the experience of a lifetime." and "this was the highlight of our vacation". We have guests from 2 years old to their 70's go and have a great time.
The entire crew of Spirit of the North hopes to share with you the thrills, the joys, and the sheer exuberance of this last great method of winter travel.


Now in West Yellowstone
Gallatin National Forest
Call 406-682-7994 for details